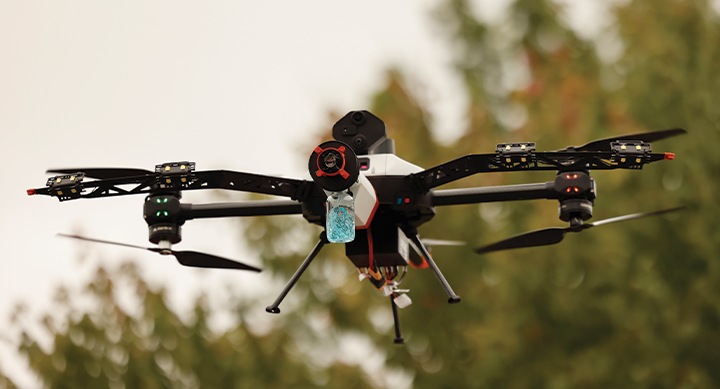 WHY USE AN UNMANNED VEHICLE?
Unmanned aerial vehicles (UAVs), also known as drones, can provide a faster and more efficient inspection process. Inspection methods often involve climbing scaffolding and ladders, being in confined spaces, accessing rough terrain and being exposed to hazardous areas. All of these can be time consuming and potentially dangerous. UAVs, on the other hand, can quickly and easily access hard to reach areas and capture important data, high resolution images and videos, allowing for a more thorough inspection in a shorter amount of time.
UAVs can provide a safer inspection process for workers and eliminate the need for workers to physically access potentially hazardous areas, reducing the risk of accidents or injuries.

Our highly trained pilots and the latest equipment allow us to make assessments quickly, complete difficult surveys and inspections, and gather information in ways that were not even possible in recent years.
OUR SERVICES CAN LOWER COSTS IN TIME, MONEY, LOST OPPORTUNITY AND  WILL INCREASE SAFETY FOR ALL INVOLVED
•     Confined Space Visual Inspections
•     Pipe Visual Inspections
•     Lidar Surveying
•     Bathymetry Pond Surveys
•     Digital Facility Mapping
•     UT Ultrasonic Thickness Testing
•     Thermal Imaging
•     Solar Farm Inspections
•     Flare Stack Inspections
•     OGI Leak Detection
•     Tank Inspections
•     Equipment Inspections
•     Roof Inspections
•     Property Maps
•     Search & Rescue
•     Heavy Lift Delivery
•    Surveillance
•     Storm Response
•     Disaster Mapping
•     Video & Photography Content
 
CONFINED SPACE
Keep personnel out of hazardous places and dangerous situations. Our specialized UAVs perform flawless visual inspections in tanks, pipelines, flare stacks, wind turbines and difficult to access areas.

Our confined space inspection UAV and Robotic Cameras can capture every corner and inch of the most complex and confined assets from a safe location.
 
DIGITAL TWINS
FACILITY AND ASSET INSPECTIONS
We create a realistic digital representation 
(digital twin) of an entire facility or specific areas and assets using specialized sensors, then process it on our secure data management portal for access. Digital twins allow asset owners, engineers and inspectors to view conditions of an entire area or specific assets through remote digital inspection. Once digitized, future internal or external inspections, surveys and reports can be added to be shared and compared over time.
 
AUTONOMOUS
Autonomous drone monitoring is the use of drones equipped with sensors and other technologies to perform various monitoring tasks without the need for human intervention. With a smart launch platform installed at the facility or area to be monitored, our specialized drones can be programmed to fly predetermined routes, collect data, and perform daily tasks. 

Flights can be viewed in real time or accessed remotely at anytime.
 
BATHYMETRY
Bathymetry is 10x faster and 2x more cost effective than traditional methods of measuring the depth of bodies of water. We can acquire seamless data of ponds and more with our specialized, dual-frequency sonar UAV. Water depth, sediment levels and volumetric information is compiled all in the same survey for increased convenience.
 
LIDAR
LiDAR (light detection and ranging) is a remote sensing method used to detect objects in real space with a high level of precision and accuracy. In the UAV LiDAR process, a drone flies over a specified area sending out laser pulses onto a
surface at a rate of 240,000 to 3,000,000 pulses per second.

This data is then recorded in a laser point cloud. This has many applications including in topography identification, construction and surface measurements.
 
NDT
We offer a UAV-based solution for both wall thickness and coating thickness measurements. The UAV is able to reach diffcult areas with its gravity defying capabilities. The UT (Ultrasonic Transducer), EMAT and DFT (Dry Film Thickness) sensors are integrated to offer end-to-end inspection data.

Our UAV pilots are able to access points of interest quickly and effciently without exposing anyone to the risk of working at height or in confined spaces with rope access or scaffolding.
 
THERMAL
Our UAVs with thermal sensors can easily spot trouble spots in piping, fin fans, solar photovoltaic cells and other areas. Thermal inspections can also identify weak or loose connections in utilities, preventing unnecessary loss of production.

With a UAV, we can cover large areas in real time, quickly and efficiently to provide our customers with thermal inspections, thermographic mapping and infrared imaging.
 
OGI
Optical Gas Imaging (OGI) allows us to scan large areas and locate fugitive emission leaks that may go undetected from the ground. Our dedicated UAV with the optical gas imaging camera is the perfect solution for aerial hydrocarbon leak detection. Inspection personnel no longer need to be put in harm's way trying to access difficult to monitor assets.
 
UAV DATA MANAGEMENT
HPC provides one secure platform with access to all relevant information collected, ensuring increased visibility, lower costs, and simplified access to complex data. 
 
ROBOTIC PIPE INSPECTIONS
Our robotic pipe inspections don't require a dedicated truck. We use a high-definition camera with pan, tilt and zoom capabilities, which offers the clearest picture of defects or obstructions in pipes ranging from two inches to 48 inches in diameter.

•    Enhanced safety
•    Faster than traditional push cameras
•    Permanent digital record of asset conditions
•    Superior data
•    Inspect almost any small area
•    100% waterproof and submergible
•    Usable in pipes as small as two inches
 
UAV PILOTS
HPC's UAV pilots are FAA SUAS (small unmanned aircraft system) licensed, internal flight training certified, fully insured, professional and experienced. Beyond spending multiple hours each week flying and testing equipment, our pilots and operators make safety their highest priority. 

We comply with all FAA regulations in order to provide you with safe and effective UAV services.