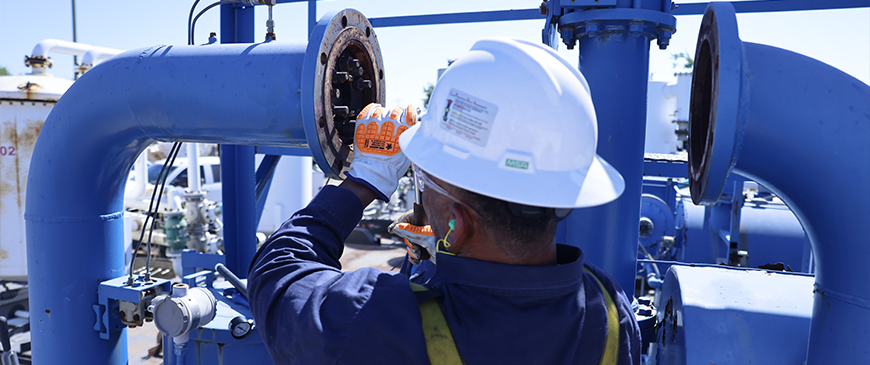 HPC Industrial is a full-service Non-Destructive Examination (NDE) business offering a comprehensive range of NDE methods. Our highly-trained technicians utilize the latest technology to provide a safe, repeatable and efficient service for our customers.
NDE Services
• Phased array ultrasonic testing with semi-automated capabilities
• Guided wave
• AUT scanning
• Creaform 3D scanning
• Material identification
• TOFD
• Optical emission spectrometry
• In-ditch assessment
Program Benefits
• Highly skilled technicians
   • Minimum level II
   • Multiple services
• Consistent and repeatable results with the latest technology
   • Quick setup
   • On-site reporting
• Formal report delivered in less than 5 business days
Meets National Codes & Standards
• ASNT SNT-TC-1A
• API-1104
• API-5L
Other Services
• Pipe-to-soil
• Soil pH
• Soil Resistivity
• Sub-meter GPS
• Dry Film Coating Thickness
• Hardness Testing
• Ground Water pH
• Expansion Evaluation
• Carbon Equivalency (CE)
• AC Potential
Commitment to Technology
Material Verification
• Instrumented indentation technique.
• Induced coupled plasma - atomic emissions
spectroscopy.
• Combustion technique.
External Metal Loss, Deformations and Mechanical Damage
• Creaform 3D scanning
• Digital pit depth guide
• Phased array
Internal Anomalies
• Ultrasonics
   • Automated
   • Phased array
   • Conventional
Girth Weld Anomalies
• Ultrasonics
• Creaform 3D scanning
• Digital pit depth gauge
• Magnetic particle
Long Seam Anomalies
• Ultrasonics
• Magnetic particle
Cracking
• Phased array ultrasonics
• Time of flight diffraction
• Magnetic particle
Pipeline Integrity Threats
• Material Verification
• External Metal Loss
• Internal Anomalies
• Internal Metal Loss
• Mill Anomalies
• Deformations
• Mechanical Damage
• Long Seam Anomalies
• Girth Weld Anomalies
• Cracking