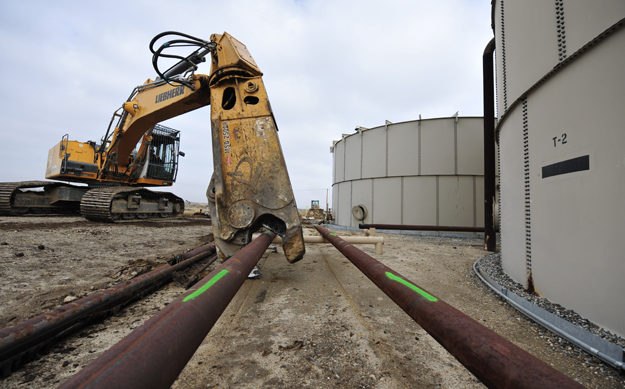 HPC Industrial's Upstream Services Group specializes in the abandonment and dismantling of wells and facilities.  Asset retirement projects are plagued with environmentally sensitive issues and require a level of sophistication that addresses the site complexities from preplanning and scheduling of services through task completion. Our teams begin every project with a thorough investigation of the site to ensure site safety while developing plans that result in strict compliance with all regulatory requirements. Click here for Service Line Overview.
Well Abandonment
HPC Industrial's team of professionals are leading the way utilizing HPC Industrial's proprietary hands-free automated UHP WaterJet cutting technology to sever wellheads. Our crews have safely excavated and abandoned thousands of wells including their associated piping, asbestos and lead-impacted concrete pads, and other equipment.
Facility Abandonment
HPC Industrial has decommissioned some of the largest, most challenging facilities in the Oil & Gas industry. Leveraging the knowledge and experience of our automation and technology department's R&D group, HPC Industrial has created specialized hydroblasting, hydrocutting and zero-entry tank cleaning equipment, elevating the Hierarchy of Hazard Controls to increasing safety and efficiency. Additionally, we support these projects with hydraulic shears, excavators, multi-functioning backhoes, concrete saws, cranes, high-tech line locating, waste management and specialized transportation services. Our crews have safely dismantled thousands of tanks, vessels, pumps, associated piping and steam generators. Many of these assets contain lead and asbestos. HPC Industrial will deliver safe, cost-effective and responsive results, proven to reduce the overall cost of asset retirement.
The HPC Industrial Advantage
Automation and technology
Meticulous project planning
Cooperative communication with governmental agencies
Abatement processes and procedures
Wellhead removal and capping
Final reporting
Permitting capabilities
Line locating and tracking
Excavation and demolition
Site restoration