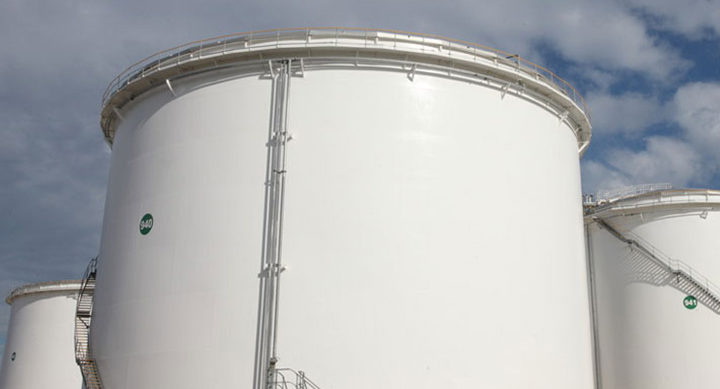 From the initial site visit to pre-project planning to implementation, our team of professionals recognize that minimizing downtime will result in cost savings to our clients. With the support of HPC Industrial's Technology Center, the Oilfield Services Team introduced innovative cleaning systems utilizing high-impact, multi-directional nozzles that dramatically reduce the amount of time spent in confined spaces.
Other automated technology advancements available to our clients include the use of Ultra High-Pressure (UHP) water for line lancing, tube bundle cleaning and UHP cutting. This progression in automated services has allowed HPC Industrial to remove our personnel from the line of fire and taken their "hands off the pressure." No other cleaning company operating in the oil and gas industry can offer this array of advanced services. Not only saving our clients shutdown time, but also potentially saving lives.
Tank and Vessel Cleaning
Onshore and offshore specialized tank and vessel cleaning services have been an integral part of our Upstream group for more than 20 years. Upstream cleaning capabilities are concentrated in California, New Mexico, Texas, Louisiana and the Gulf of Mexico with the ability to mobilize to any areas of the U.S. where clients require maintenance cleaning or assistance during facility-around activities. Click here for Service Line Overview
Rig Cleaning
HPC Industrial's experienced personnel with state-of-the-art equipment perform superior rig-pit cleaning services, both on land and offshore. Our crews are skilled in applying the most efficient cleaning methods for different muds and fluids to ensure less rig downtime and enhance safety performance.
With operations throughout Louisiana and Texas, HPC Industrial offers efficient and reliable cleaning processes and procedures that safely provide the most effective rig-cleaning operations available today. With the application of conventional or automated rig-cleaning processes, HPC Industrial ensure that your rig-process equipment, mud tanks and rig pits are cleaned and decontaminated safely and efficiently and in full compliance with environmental regulations. Click here for Service Line Overview.
Synergistic Services
The Upstream onshore, offshore professionals continue to provide a full range of synergistic services, which include:
Deepwater Platform Hull Inspection Support
Line Lancing
Platform Decommissioning
Topside Flushing & Cleaning
Boat, Barge & Container Cleaning