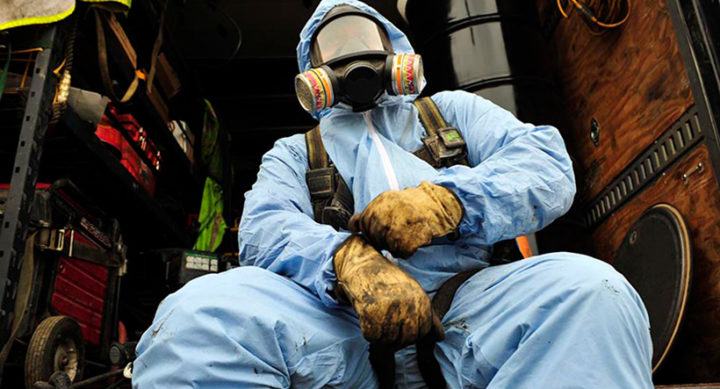 HPC Industrial's Remediation Division has an extensive history in developing Work Plans, Sampling Plans, Quality Assurance Plans, and Health and Safety Plans. For environmental issues that involve complex environmental challenges impacting the success of your business and your bottom line, HPC Industrial's experts will serve as a trusted consultant, contractor or both—no matter how challenging the project. Click here for Service Line Overview.
NORM Decontamination
HPC Industrial owns and operates a NORM (Naturally Occurring Radioactive Material) decontamination facility in Gibson, Louisiana and a staging facility to support site remediation in Marshall, Texas. These two facilities enable oil and gas companies to remain in compliance with state and federal regulations while protecting the public and the environment by safely removing NORM materials in controlled settings.
Our teams of professionals have successfully completed thousands of NORM remediation/decontamination projects in operating gas plants, refineries, paper mills and chemical plants as well as oilfield sites. Holding NORM-specific licenses in Louisiana and Texas and obtaining reciprocal agreements in other states allow us to remediate NORM-impacted sites and equipment nationally. We have recently expanded our geographical footprint to include the Permian and Delaware Basins as well as South Texas. Capabilities include NORM and site remediation as well as facility maintenance and asset retirement.
Asbestos & Lead Abatement
Asbestos and lead present a unique risk to personnel and to the environment when identified in the production of oil and gas. HPC Industrial offers a full suite of complementary abatement services to mitigate these hazardous materials. Abatement services, when applied responsibly, reduce the risk to our client's personnel exposure and reduce their risk of receiving compliance orders from state and federal agencies. When your company is faced with environmentally sensitive issues such as asbestos and lead, it is critical to work with a partner that is knowledgeable and experienced.  
Mercury Management
The presence of mercury in the production and pipe lining of hydrocarbons is potentially harmful to our clients' operations because it poses an inherent health risk to employees and is difficult to detect.  Mercury adheres to certain metals and causes metal corrosion and embrittlement. Extreme care, caution and coordination are required when dealing with mercury and mercury cleanup efforts.
From pre-planning, sampling, testing, remediation, disposal, reporting and more — the knowledgeable and qualified staff at HPC Industrial manage every phase of the process. Our goal is to have "no additional effect on the health and safety of your employees and no additional effect on the environment."
Let HPC Industrial tailor a plan to meet your specific mercury needs.  As a trusted national leader in mercury decontamination services, we will ensure a safe and healthy work environment for your employees. Pre-planning involves mitigating to limit exposure.
Skilled Abatement Professionals
Highly trained, licensed and certified abatement specialists
Thorough site assessment, planning and reporting
Application of prudent asbestos, lead, NORM and mercury abatement processes
Waste Management
Specialized transportation services