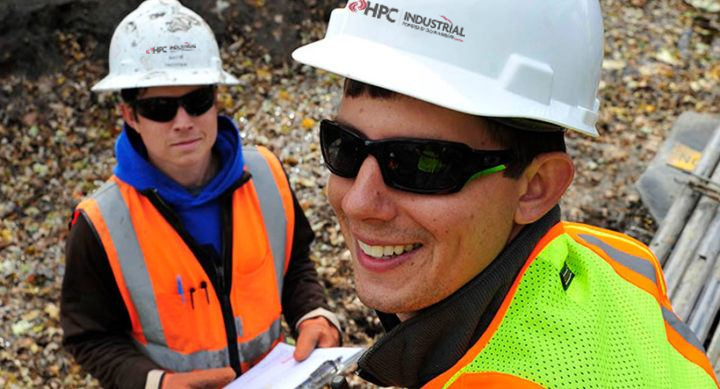 For many years, municipalities serviced their environmental work scopes through multiple vendors, with no collective view of total waste volumes or available alternatives. This created major challenges to managing the risk of environmental compliance, and using multiple contractors made it impossible to effectively set or achieve cost-reduction targets.
HPC Industrial developed our Environmental Management Program (EMP) specifically to meet the compliance and cost management needs of our customers.
Our program is designed to execute environmental compliance activities to the same standard for the same scope every time, with clear procedures that can be followed in the field.
We share ownership of your objectives for Waste Minimization, Sustainability, Cost Management and Diversity.
Compliance Management
Compliance management, one aspect of our Environmental Maintenance Program (EMP), which is designed to execute environmental compliance activities to the same standard for the same scope every time, has clear procedures that can be followed in the field.
HPC Industrial maintains satellite waste accumulation areas and ensures that all working locations are kept up to code.
Transformer Maintenance and Clean Up
HPC Industrial offers thorough routine, transformer maintenance and cleanup management. This includes pad mount change outs, pole mount change outs and PCB cleanups. We are skilled in the cleanup of dielectric oil, hydraulic fluids and PCB liquids.
Manhole and Vault Services
As an experienced utility manhole decontamination company, HPC Industrial is equipped to provide thorough cleaning for all types of manholes — from storm drains to electrical manholes. Regardless of the scope of the project, we place an emphasis on safety and service. Thorough utility manhole cleaning services are made available throughout the country thanks to HPC Industrial, a leading name in industrial cleaning and environmentally sensitive needs.
Emergency Response Services
HPC Industrial provides Emergency Response Services that comply with all local, state and federal regulations governing the release of oils and chemicals to the environment (air, soil and waterways).
We quickly respond (within 2 hours of initial contact) to releases and other emergency situations involving electrical storms, heat storms and third party incidents in order to restore power to customers.
We are ready for you: 24 hours a day, 365 days a year.
Asbestos & Lead Abatement
Safe asbestos remediation environmental services are a must in order to protect both people and the environment from this hazardous substance. Asbestos continues to be phased out in residential settings due to the many ill effects it can have on a person's health. However, asbestos is still a very useful material in many industrial applications, such as in oil and gas lines. As an experienced safe asbestos removal systems company, HPC Industrial has the resources needed to remove and dispose of this material within your operations.
Our asbestos remediation company takes measures across the board to ensure safe, responsible removal and disposal. 
Transportation, Disposal and Recycling
HPC Industrial offers efficient removal and transportation of hazardous and non-hazardous wastes across North America. Our fleet includes a wide range of licensed power units including vacuum tankers (70 BBL and 130 BBL), hydro excavators, jet rodders, guzzlers, end dumps, box vans, flatbed trailers, drop decks, pneumatic tankers, dedicated PCB tankers and containers, roll-off units, and carbon steel and stainless-steel tankers. In addition, HPC Industrial can quickly mobilize equipment from any other locations throughout the country as needed. We are fully compliant with DOT Hazmat and other federal, state, and local regulations governing waste transportation.
From container management to specialized haulers, HPC Industrial transportation specialists are available to support your specific waste and cargo movement needs. HPC Industrial will help provide waste characterization and transportation of the materials from work or accumulation sites to a PPL approved TSDF for disposal.