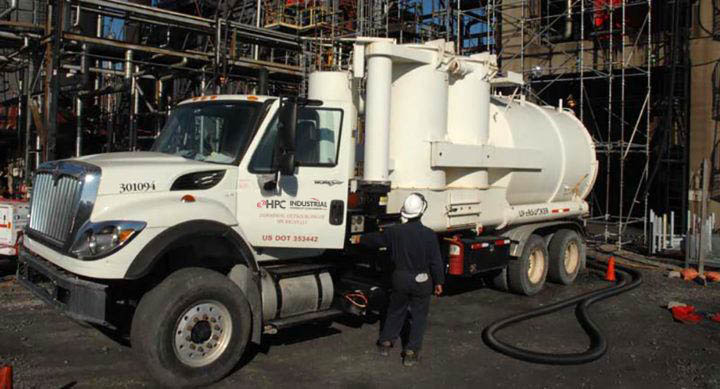 HPC Industrial has the newest and most technologically advanced fleets in the industry and can remove a wide variety of materials with differing viscosities and densities from tanks, vessels, water treatment ponds, basins, sewers and drains.
Our highly trained operators safely manage a variety of waste materials to minimize downtime for our customers. With on-board GPS systems and level telemetry, we're able to gather and analyze data to reduce the number of trucks onsite – further minimizing costs.
HPC Industrial Vacuum Truck Advantage
At HPC Industrial, we are committed to excellence in our vacuum truck fleet:
We implemented an on-board ground verification system (Newson Gale MGV) to ensure equipment bonding as well as to guarantee that each vacuum truck has a verified ground.
We developed, tested and implemented new, fully bonded hoses for all liquid vacuum trucks.
We maintain a fully DOT-compliant fleet for in-plant service, so every tanker meets minimum thickness requirements at all times – no exceptions.
We installed Roda Deaco anti-runaway systems for all liquid vacuum trucks to prevent engine runaway and backfire-generated vapor ignition.
We installed state-of-the-art vapor control systems for liquid vacuum trucks operating in high VOC or H2S environments.